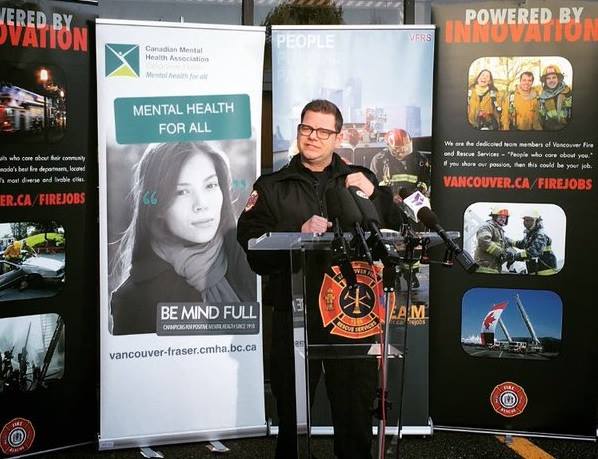 Vancouver Fire Announcement on mental health launch

Today at Firehall 1, Vancouver Fire and Rescue Services, IAFF Local 18 and the Canadian Mental Health Association were proud to announce the launch of our new mental wellness initiative for VF&RS staff.
Emergency services staff are enduring a mental health epidemic. Suicide, PTSD and home-life problems are far higher among firefighters, paramedics and police than in the general population. We've been fortunate to have a dedicated team of Critical Incident Stress Management volunteers, who help our women and men defuse after traumatic events, but more can, and now more WILL be done to prevent and treat the effects of acute and chronic trauma exposure.
Our new program, designed FOR VF&RS by VF&RS and the CMHA will arm our staff with the knowledge, literacy and tools to recognize and react to mental injuries and illness, and give them ways to build resiliency as they face the challenges that their career presents. It will also help them to help people in the communities they serve who might be facing mental heath issues or stresses, further enhancing our capacity to care for those in need.
This program could not have come so far without the support of the CISM Team including coordinator Steve Fraser, the support of VF&RS including OH&S Assistant Chief Ron Coulson, the support of IAFF Local 18, and the incredible collaboration from the team at the Canadian Mental Health Association- Vancouver Fraser including Seia Roots, Leanne MacLeod and Michael Anhorn.
Thank you to everyone who attended the launch and made it a huge success, and we're looking forward to the next stages of this much needed program.